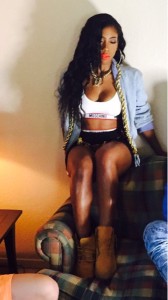 Last week the rapper Mr. B.O.B. made headlines and causing up a stir because he posted photos of another woman on his Instagram account having us all confused because we thought he was dating R&B singer Sevyn Streeter.
After the photos went viral, the young woman's friend hit up the blogs and stating B.O.B. asked the young woman to go through with a publicity stunt and pretend they had a thing. Which we posted previously.
Of course B.O.B. denied the allegations but he made an Instagram video stating that Mr Bobby Ray is single and the young lady owed him s*x since he helped her get so much attention from the blogs.
Sevyn Steeter has been silent on all the drama he has caused, but she may now be possibly speaking out.
After Sevyn's team confirmed she's done with B.O.B., Sevyn tells the Source the following when they ask her how many second chances will she give a man:
"We all have that place that if the right person pushes you, you can go there. You know your limit and the limit is different for every woman, but for me it's like that limit right before you cause me to hop all the way out of my character. I'm not gonna let you do that!"
She understands that sometimes an ex will do things just to get under her skin, so she's decided to fuel her anger into music instead, so she can at least make some money from it.
She tells the Source:
"I'll write a song about you before I let you do that and I'll make paper off of you before I let you do that."
We agree Sevyn!
Check out the interview below: